Sakura dragon
Sakura Dragon is a slot inspired by Japan and the legendary dragons of the Far East. In Japanese, sakura means cherry blossom or blossoming cherry tree.
The reels of this slot are set against a flurry of blossoming cherry trees, with the hazy mountains of Japan in the far background. You'll find a dragon standing guard on each side of the reels, ready to swoop across if needed, to unlock the special dragon wild feature.
Examples of symbols that adorn the reels of this game are Japanese women in traditional garb, the Shogun, a fox, a deer, and a traditional pagoda. The are beautifully accompanied by relaxing Japanese-style music playing the background.
The basics
Game developer: Payson
Paylines: 15 fixed pay lines, you have to bet on all of them
RTP: 95.03%
Volatility: Medium
Autoplay: Autoplay is available for 5 to 100 rounds.
Wild symbol
The delicate pink flower is a wild symbol in this game. It can substitute for any of the regular symbols, but not for the bonus symbol.
Random dragon wild feature
This game comes with a randomly triggered dragon wild feature, which makes one or both dragons fly across the reels, leaving a trail of wild symbols in their wake.
Bonus symbol
The pagoda in the mountain landscape is a bonus symbol. If you get at least three bonus symbols simultaneously, you will be awarded with a coin win and with free spins.
Three bonus symbols = five times you stake as a coin win, and you also get eight free spins
Four bonus symbols = ten times you stake as a coin win, and you also get 12 free spins
Five bonus symbols = 50 times you stake as a coin win, and you also get 20 free spins
The side dragons will be extra eager to help you during the free spins round.
It is possible to be awarded new free spins during free spins.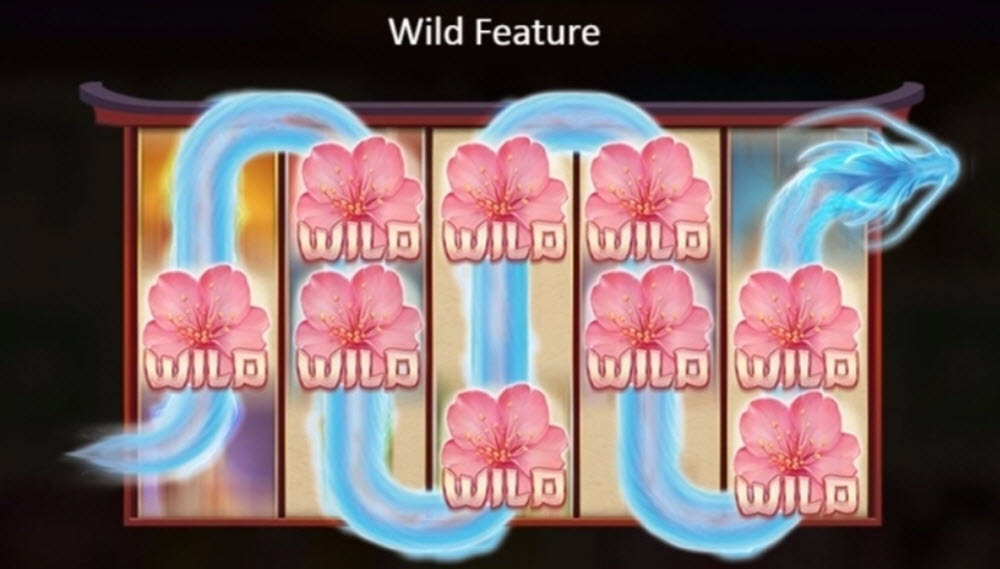 Can I play on mobile devices?
Sakura Dragon can be played in mobile casinos, desktop casinos, and tablet casinos. The interface is user friendly even on a small screen.
Trivia: Famous Japanese dragons
Yamata no Orochi, an 8-headed and 8-tailed dragon slain by Susanoo, the God of Winds & Sea. Susanoo discovered the famous sword Kusanagi-no-Tsurugi in one of the eight tails.
Watatsami, also known as Ryujin, was a dragon who ruled the oceans. His home was an underwater palace, where he kept his magical tide jewels. He could change into human form at will.
Toyotama-hime, the daughter of Watatsami. She is known as the Lumoius Pearl Princess. Japan's legendary first emperor Jimmu claims her as one of his ancestors.