Miyagi Prefecture


The Miyagi Prefecture is located on the eastern coast of Honshu, in the Tōhoku region.
The area around the prefecture's capital Sendai is rather flat and low-laying, while tall mountains are found in the western part of the prefecture and along the north-eastern coast. The Oshika Peninsula projects into the Pacific Ocean in a south-eastern direction from the northern coast.
One of the most well-visited places in the Miyagi Prefecture is Matsushima, a bay dotted with over 250 small pine-clad islands and islets. Matsushima is considered one of the Three Views of Japan, and cruise boats are available for tourists who want to see the islands up close.
Short facts about the Miyagi Prefecture
| | |
| --- | --- |
| Area | 7,285.16 km2 |
| Population | 2,321,358 (June 2016) |
| Number of districts | 10 |
| Number of municipalities | 35 |
| ISO 3166 code | JP-04 |
| Official tree | Japanese zelkova |
| Official flower | Miyagi bush clover |
| Official bird | Wild goose |
Cities
There are 14 cities in the Miyagi Prefecture: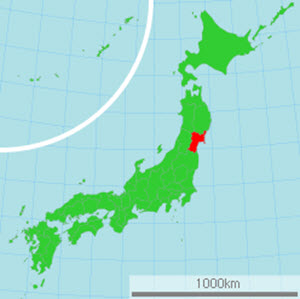 Higashimatsushima
Ishinomaki
Iwanuma
Kakuda
Kesennuma
Kurihara
Natori
Ōsaki
Sendai (the prefecture's capital and largest city)
Shiogama
Shiroishi
Tagajō
Tome
Examples of festivals and other notable events
When?
What?
2 January
Large New Year's Sale in Sendai
3-5 May
Shiroishi Kokeshi Exhibition
In May
The Aoba Festival of Suzume Odori (a traditional dance type)
In July
The Shiogama Port Festival
6-8 August
The Tanabata Festival in Sendai

Tanabata, also known as the Star Festival, is a Japanese festival originating from the Chinese Qixi Festival.

In September
The Narugo Kokeish Festival
In December
Pageant of Starlight in Sendai
Natural parks
National Parks & Quasi-National Parks
The Rikuchū Kaigan National Park (in 2013 the park was incorporated into Sanriku Fukkō National Park).
The Kurikoma Quasi-National Park
The Minami Sanriku Kinkasan Quasi-National Park
The Zaō Quasi-National Parks
Prefectural Natural Parks
Abukuma Keikoku
Asahiyama
Funagata Renpō
Futakuchi Kyōkoku
Kenjōsan Mangokuura
Kesennuma
Matsushima
Zaō Kōgen
The Sendai Airport
The Sendai Aiport is an international airport located in Natori, roughly 14 km from Sendai.
IATA: SDJ
ICAO: RJSS
Railway access
From the airport, you can travel by railway on the Sendai Airport Line to downtown Sendai. The trip takes about 25 minutes.